When it becomes increasingly difficult to control your weight, you may be searching for a more effective way to improve your health.
If you feel that you've reached a point that you need a more effective tool-gastric sleeve surgery is the most safe and effective treatment.
Learn how gastric sleeve surgery at Texas Center for Bariatrics & Advanced Surgery in Plano, TX, can help you live the life YOU want...
Gastric Sleeve Surgery
One Operation Can Change Your Life
We often hear that many people think that they are too old or don't weigh enough to qualify for weight loss surgery. If you have a Body Mass Index (BMI) of 27 and greater, you DO qualify for weight loss surgery.
At Texas Center for Bariatrics & Advanced Surgery in Plano, TX, we do not put limits on age. Everyone deserves a healthy weight and long life - and that is exactly the tool weight loss surgery delivers. We are supportive and compassionate surgeons who do not judge and find weight loss solutions that work. Our average patient age is 16-75 years old.
Decreased Appetite

Did you know that the size of the stomach is reduced by up to 80 percent during gastric sleeve surgery and the hunger hormone ghrelin is blunted? Ghrelin is mainly produced in the portion of the stomach that was removed. As a result, you won't feel as hungry and you will feel fuller faster. These two simple changes can have a dramatic impact on your waistline, promoting rapid and lasting weight loss.
Impressive Safety Record
This minimally invasive weight loss surgery has an excellent safety record. According to a study from the American Society for Metabolic and Bariatric Surgery, less than 1 percent of these bariatric surgery patients experience complications 30 days after surgery. We use advanced methods and tools to further decrease the already low risk of complications during this type of weight loss surgery.
Effective Treatment

Many patients experience great results with this technique in under 12 months, losing about 90 percent of excess body weight. In fact, this procedure is so effective that many patients who previously underwent a gastric band procedure undergo revision surgery to gastric sleeve, also known as sleeve gastrectomy.
Improved Health

Many patients find that health problems related to obesity such as sleep apnea, arthritis, and diabetes get better or resolve completely after losing weight with this technique. You might find exercising becomes more comfortable as you begin to feel lighter and more mobile, further solidifying your commitment to leading a healthier lifestyle.
Better Quality of Life
Overall, you can expect an improved quality of life because you can engage in more physical tasks, and feel more confident in your appearance and ability to participate in social activities. Often, weight loss surgery can give you the boost you need to be more productive and successful in other areas of your life such as dating or career advancement.
Dr. A. Joseph Cribbins III is a board-certified general and bariatric surgeon, specializing in ultra minimally invasive advanced Da Vinci surgery. He has been in private practice since 2000 and is highly trained and experienced in bariatric surgery.

In addition to evaluating your candidacy for weight loss surgery, we will consider your unique concerns, goals, medical conditions, and more in order to make the most suitable recommendation. Medical weight management, for example, might provide great results for the right patients. We are confident we can meet your needs to help you live your very best life.
To take the first step toward achieving a healthier lifestyle, schedule a consultation at our Plano practice, serving patients throughout the Dallas metroplex. We look forward to meeting you.
You can contact us online or call us at:
Patient Reviews
"I Have Lost 325 Pounds"
Since calling to schedule my first visit, I've had a great experience with this office. I'm a little over a month post op and am down nearly 50 lbs. The entire process to my surgery and after it has been very easy and seamless. The staff there is always available to help when I've had any questions and they're always extremely friendly and helpful. Dr Cribbins is very knowledgeable and easy to talk to, you can really tell that he has his patients best interest at heart. Plus, the office has a very cute puppy, so extra points for that. I'd definitely recommend Dr Cribbins and his team if you are looking into weight loss surgery, they will take great care of you!
View on Google
What Is
Gastric Sleeve Surgery?
The gastric sleeve or vertical sleeve gastrectomy (VSG) procedure is a type of bariatric surgery that involves the removal of a portion of the stomach. It is also the most common bariatric surgery around the world. Dr. Cribbins & Dr. Chen perform this procedure with the ultra minimally invasive DAVINCI surgical system. The stomach is separated into two sections, the smaller of which resembles the shape and size of a banana, leaving a small tube or "sleeve" remaining. After this area is sectioned off, the larger portion of the stomach is removed, leaving 15 to 20 percent remaining.
Removing 80 percent of the stomach significantly restricts caloric intake and the portion of the stomach that is removed secretes ghrelin and other "hunger hormones"responsible for appetite. By removing this part of the stomach, the patient's appetite is reduced further, significantly contributing to weight loss.
Many overweight people don't experience long-term weight loss success with traditional weight loss methods of diet and exercise due to leptin resistance. Sometimes, people need to take another path, such as bariatric surgery. Gastric sleeve surgery works because it reduces the size of your stomach and decreases the hunger hormone Ghrelin; It can also reset your metabolism, offering you long-term results that diet and exercise alone can't accomplish.
Our Advanced Technology
more precise surgery
At Texas Center for Bariatrics & Advanced Surgery in Plano, TX, we use the most current and minimally invasive tools, technology, and techniques, such as the da Vinci Xi® surgical system.
Dr. Cribbins & Dr. Chen proudly uses the advanced technology from Intuitive Surgical and the da Vinci Xi surgical system because it is less invasive, more precise, and provides a faster recovery with less pain for patients.
Our surgeons have a simple goal utilizing da Vinci technology: to perform the surgery and help patients return to their normal life sooner.
Better surgery means better results for patients.
How Fast
Will I Lose Weight?
The First Couple of Months
Many patients see excellent weight loss results in the first couple of months after their surgery; they often get used to seeing a drastic difference reflected on their scale, and then feel disappointed when that number starts slowing. Similar to gastric bypass or any other type of weight loss surgery, it is important to remember that you will shed more pounds at the beginning of your journey.
Long-Term Results
Most patients can expect to lose 90 percent of their excess weight 12 months after gastric sleeve surgery. The rate at which you lose weight, as well as the amount you lose, depends on your diet, exercise level, and body. By staying committed to a healthy lifestyle, you can expect to see long-term results that promote weight loss, refine your body, and improve your health.
Isn't It Time ...
To Put Your Health First?
We believe that One Operation and a high level of care can change lives. At Texas Center for Bariatrics & Advanced Surgery in Plano, TX, we use the most sophisticated technology for better results. Our da Vinci technology makes for:
Fewer complications and easier recovery
A shorter hospital stay
Better weight loss results
Less time away from work and daily life
Start now. You will be in expert hands. Dr. Cribbins has been recognized for 13 years in Dallas' D Magazine's list of Best Doctors for bariatric surgery and a Texas Monthly Super Doctor.
Live the life you want.
Request a consultation today.
The "BEST!"
5-Star Reviews
I had been looking for 2 years for a doctor to perform this sleeve surgery. My PCP recommended Dr. Joe. So, I called , got an appointment and I couldn't be happier!! The amount of compassion and understanding that you get from the staff and Doc. Joe is second to none. Phenomenal, fantastic and super are just a few of the words I use to describe them and how I feel about my sleeve! Thank You. Doc Joe and Staff!!!!!!!!!
View on Google
Dr Cribbins was amazing! I would refer anyone to everyone. My wife and I both had the procedure. He sat with us before and after the surgery. He answered all our questions and made sure we were comfortable. Overall, we are very pleased with his work and bed side manner. I'll give him more then 5 stars if I could!
View on Google
We Support You
Before, During & After
Even with surgery, we all know that weight loss is not an overnight event. We can all use a helping hand along the way. That's why our compassionate team of surgeons, psychologists, nutritionists, and highly trained staff at Texas Center for Bariatrics & Advanced Surgery in Plano, TX, are here for you, before, during, and after your surgery.
If you're at the beginning of your journey we encourage you to investigate our robust services to get you started and support you along the way:
Meet with Dr. Joseph Cribbins or Dr. Edmund Chen at our practice in Plano, TX. Or, if you can't come here, you can still easily talk face to face with Dr. Cribbins or another doctor during a virtual consultation. Even if you are not familiar with video conferencing technology, we make virtual meetings simple. These private conversations allow you to talk with a surgeon and get your questions answered.
After surgery, our hospitals offer free support groups facilitated by licensed professionals who understand the weight loss journey. Surrounded by people on their weight loss surgery journey, you'll have the support of people who understand and support your goals.
If you have health care insurance, we can help you navigate the ins and outs of coverage and benefits for gastric sleeve treatment. If you don't have insurance, we offer a variety of financing options to make weight loss affordable.
Why Choose
Sleeve Gastrectomy Instead of Gastric Bypass?
Gastric sleeve and gastric bypass surgery are two of the most common bariatric surgeries. When compared to gastric bypass surgery, sleeve gastrectomy is generally considered a less invasive, lower risk bariatric option. In addition, patients can undergo this procedure to improve their health, and then proceed with gastric bypass in the future if they don't meet their weight loss goals.

The surgeons at Texas Center for Bariatrics & Advanced Surgery in Plano, TX, offer gastric bypass, gastric sleeve, and other bariatric procedures; we will make recommendations on treatments that match your needs and goals.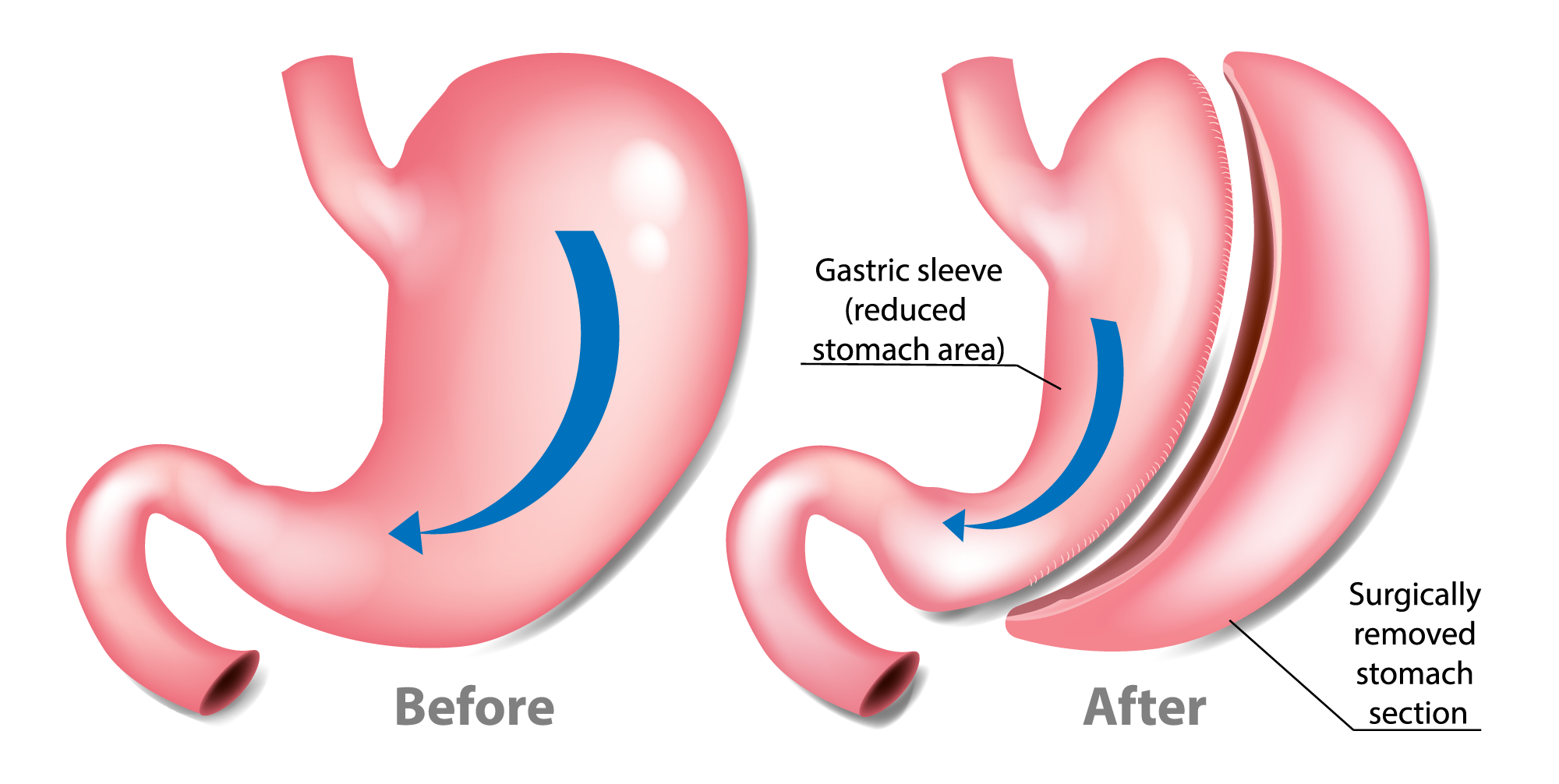 "I Finally Got the Courage"
More 5-Star Reviews
"I desperately needed weight loss help but was too embarrassed to visit a weight loss surgeon. I stayed at home because I was too ashamed of my weight to venture out-covid has worked well as my latest excuse to stay home ... I finally got the courage to fill out a contact form on their website....half hoping they would not call me back lol. Kesha called me the same day and I made an appointment and I was scared to talk to her. I saw Dr Cribbins 2 days later and for the first time in 10 years I was excited about my future. I had a da Vinci VSg with Dr Cribbins and my life has forever changed. The first 6 months I lost 100 pounds!!!!
View On Healthgrades
Great bedside manner!!! I had lapband in 2005 with another doctor which failed. Dr.Cribbins was able to get me approved and I had another procedure to alleviate my issues. Since that time, I no longer have pain, acid reflux, I'm off the C-Pap and no longer snore. I am so happy with my progress and to be healthy again!!! So wonderful to play with my grandson without getting winded. 65 pounds off makes a huge difference in your health!! I'm so grateful!!!! I absolutely love Marty!! He's the office Corgi that is there for moral support a couple of days a week. It's wonderful to get my pet on. :-) Thank you Dr.Cribbins & Staff!!!
View on Google
Do I Qualify?
Calculate Your BMI