Do you struggle with obesity? Has a previous gastric sleeve or gastric bypass procedure failed to help you achieve sustained weight loss?
SADI-S can help patients lose 70-90% of their excess weight, with a lower risk of developing ulcers or dumping syndrome.
Our board-certified surgeons in Plano, TX, use minimally invasive technology to help you significantly enhance your health with SADI-S.
Combining Procedures
For Enhanced Weight Loss and Minimized Risks
SADI-S (single anastomosis duodeno-ileal bypass with sleeve gastrectomy) is a variation of the traditional duodenal switch procedure. It minimizes your caloric intake by making both restrictive and malabsorptive changes to your gastrointestinal tract. First, the stomach is reduced by about 70% using the gastric sleeve technique, restricting the amount of food you can eat at one time. Next, 400 to 600 centimeters of the small intestine are bypassed, reducing the amount of nutrient absorption that takes place as you digest your food. These changes, in combination with regular exercise and a refined diet, can help you lose 70-90% of your excess weight.
If you are in need of massive weight loss, or if a previous bariatric procedure failed to help you achieve sustained weight loss, Drs. Joe Cribbins and Edmund Chen in Plano, TX, can help determine if SADI-S is right for you.
SADI-S or Traditional Duodenal Switch?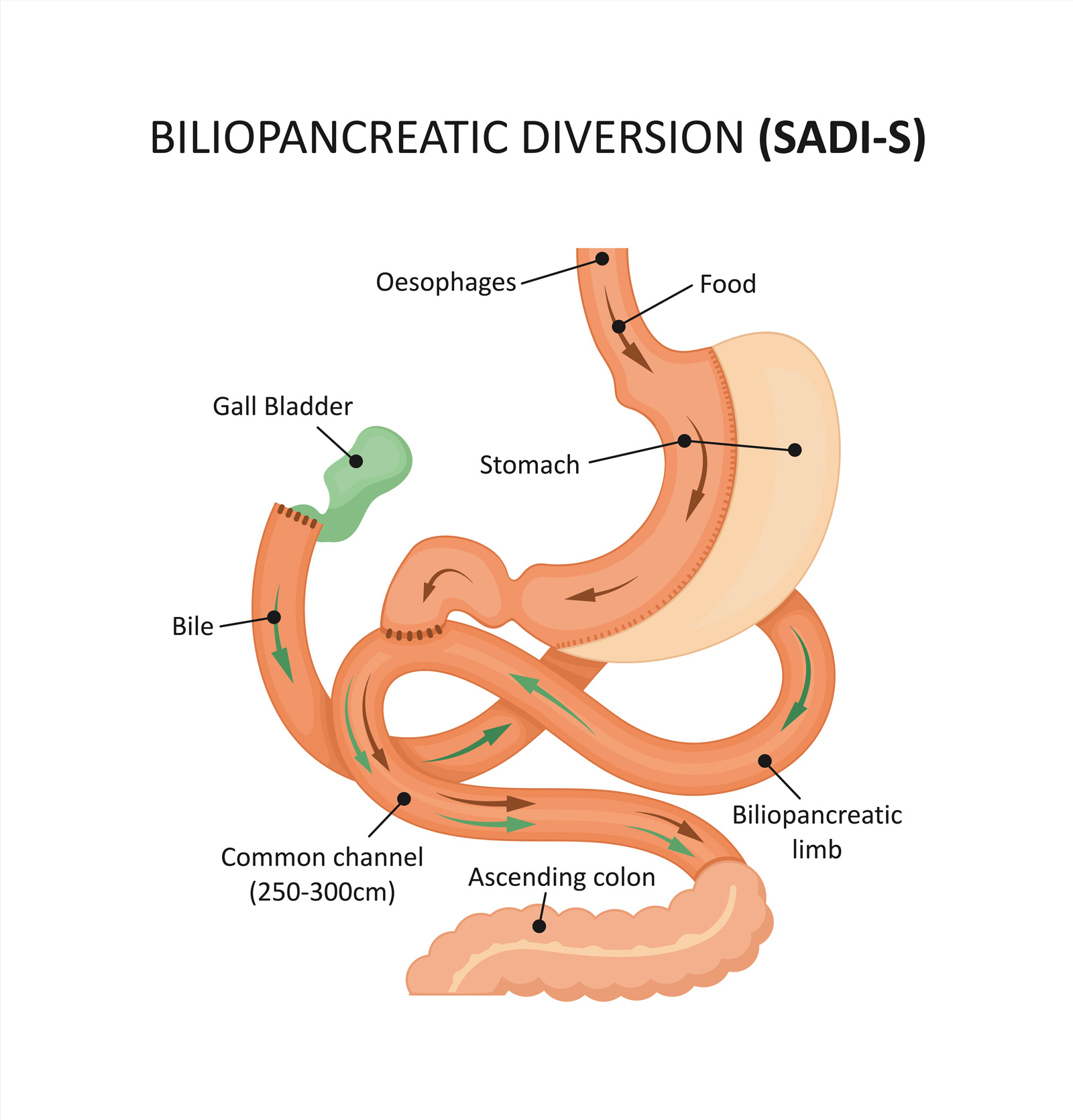 If your BMI is 50 or higher, we may instead recommend a biliopancreatic diversion with duodenal switch, which bypasses more of the small intestine for greater malabsorptive effects.

A new connection created during bariatric surgery is called an anastomosis; SADI-S involves a single anastomosis between the stomach and the small intestine. Instead of a single anastomosis, a traditional duodenal switch involves two: one between the stomach and small intestine, and another between the middle section of the small intestine and the end section, which allows delivery of bile and pancreatic digestive juices.
When you meet with our surgeons for a consultation, they can determine whether the single-anastomosis variation or the traditional duodenal switch will be more beneficial to you.
Explore SADI-S
With Leaders in the Field of Bariatrics
If you or someone you love suffers from obesity, you are not alone, and you are not without hope.
Dr. Cribbins and Dr. Chen are leaders in bariatrics who can help you achieve the dramatic changes you need in order to extend your life and have a better time living it. Whether this is your first time exploring weight loss surgery or a previous procedure has failed to provide the results you need, our surgeons are here to find the solution that works for you. Depending on your physical condition, needs, and goals, they may recommend SADI-S as a means of helping you lose your excess weight. If your BMI is 50 or higher, we may recommend a biliopancreatic diversion with duodenal switch procedure instead.
It all starts with a weight loss surgery consultation at our Plano practice. Complete our contact form or call us directly:
"Dr. Joe and his team are the best!"
Patients Recommend Us for Bariatrics
I did a lot and a lot of research! I came across Texas Center for Bariatrics. I had 2 different offices to give a call for a consult. I went with my heart and choose them! It is a BIG decision to actually come in for a consult. From the receptionists to my surgeon Dr. Chen everyone is so heartwarming and professional. I am now 2 weeks post op. And feel GREAT. I am very thankful for everything they have done and will continue to do for me. Plus they have Marty! Which is sooo adorable my son loves him!
View on Google
Dr Joe and his team are the BEST!! He literally gave me my life back. I traveled from South Mississippi to have him perform my revision/hernia repair cause I knew he was the best surgeon. Thank you so much!! I'm so grateful and blessed.
View on Google
Why Patients Choose Our Surgeons
To Help Them Live the Lives They Want
Bariatric surgery is widely available. As
obesity continues to be a struggle for billions worldwide
, surgery is becoming a life-saver for many who need to make a significant change in their health and quality of life. Although it is not difficult to find a provider, it is important to understand that choosing the right surgeon matters. Here are just a few reasons why patients in Plano and elsewhere put their trust in our surgeons:
Board Certification
Both Dr. Cribbins and Dr. Chen have earned board certification. Board certification is not required in order to provide bariatric surgery, but it does indicate that your surgeon is educated beyond the minimum requirements and has passed a difficult examination by the American Board of Surgery.
Uniquely Qualified to Perform SADI-S
SADI-S (single anastomosis duodeno-ileal bypass with sleeve gastrectomy) can be incredibly beneficial to many patients struggling with obesity, but because it is complex and requires special expertise, not all bariatric surgeons perform it. Our surgeons do, and they have helped many patients in serious need of massive weight loss achieve change through SADI-S.
A Reputation for Excellence
Our practice has earned more than 150 5-star Google reviews, and D Magazine, a publication covering the Dallas-Fort Worth area, has named us the best doctors in bariatrics for more than 10 consecutive years. Our hope is that the acclaim we have received throughout the area will inspire you to request a consultation with us and find out for yourself if we are the right practice for you.
Specializing in Minimally Invasive Surgery
We use the Da Vinci® Xi Surgical System to perform SADI-S, duodenal switch, and all other bariatric procedures. This robot-assisted approach allows Dr. Cribbins to control miniaturized surgical tools that he uses to create the necessary changes with minimal tissue disruption. The result is a safer surgery with a faster recovery time, even compared to traditional laparoscopic weight loss surgery.
A Closer Look at the Da Vinci Xi
Before the advent of laparoscopic technology, surgery required large incisions to achieve a proper view of the treatment area. The laparoscope (a small camera on the end of a flexible tube) made it possible to perform surgery using far smaller incisions. But today, Da Vinci Xi gives the term "minimally invasive" a new meaning: it not only provides an even better view of the treatment area, but also gives a trained surgeon expanded capabilities.

Da Vinci Xi provides magnified high-definition 3D views inside the body, while traditional laparoscopic surgery is limited to two-dimensional views. Dr. Cribbins views these images on a monitor; he then uses wristed instruments that follow his movements. These instruments have a full 360-degree range of motion, something the human hand alone does not have. This enhanced dexterity and precision brings tissue disruption—along with recovery time and risks—to an absolute minimum.
Dr. Cribbins performs SADI-S, traditional duodenal switch, and all other bariatric procedures using Da Vinci Xi technology at Texas Health Presbyterian Hospital in Plano, Baylor Scott & White Medical Center in Plano, Texas Health Center for Diagnostics & Surgery in Plano, and Baylor Scott & White Medical Center in Frisco.
"I would choose them a million times over."
Dr. Cribbin, Dr.Chen and their staff are the most amazing group of people I have ever met. Not only do they care immensely for each and every patient that walks through their doors, the support and guidance makes the whole process easier and much less scary. I would choose them a million times over!
View on Google
It's been 6weeks and I Feel and Look good After my surgery … I Recommend For anyone to take a visit to the doctors office they do a great job
View on Google